more about paintings
Madrone
I first observed madrone trees in Berkeley in the fall of 1963. They can grow to be sizable trees with smooth sinuous curvilinear trunks. I sketch them, and sometimes incorporate madrone-based forms in my drawings and paintings.
Art is Really Important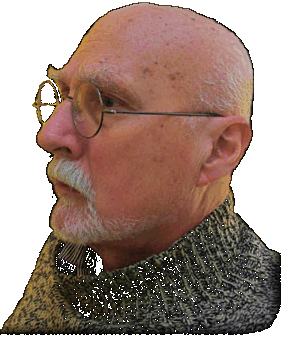 background image on
To the right is a detail from a circular form painting of similar motif, composition, and coloration, to the paintings above. It illustrates the interaction between the contrasting blue and orange areas of the painting.
The diagonal brownish-maroon line is an example of the madrone motif that I sometimes use in my paintings. I mixed the paint for it from several colors, including the near black Dioxyzine Purple of the line running along the top of the yellow band. The shared purple color establishes a subtle visual connection between the two lines.
Look closely at paintings. Observe variations in the thickness and texture of the paint, whether canvas — painted or bare — is visible, or whether traces of an underlying sketch or diagram are present. Did the artist scrape off and repaint something? Try to imagine how the artist made the painting.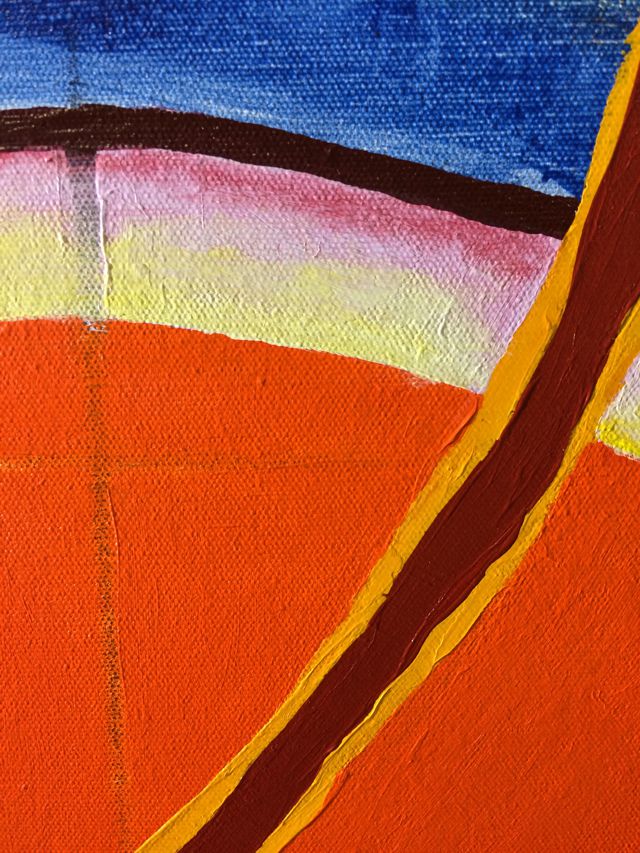 Making a Painting
It began with a birch and spruce bog in the taiga near the University of Alaska's Large Animal Research Lab in Fairbanks.
I took several cellphone snapshots of the bog, and I printed a copy of one of the photos. I made sketches of that image, and a small painting based on it. I then began a larger version of the painting.
Each iteration involved rearranging and simplifying the paintings.
This photo illustrates the state of the large canvas as of 9:15 pm, July 31, 2022.
I am not interested in painting pictures, and I was dissatisfied with the naturalistic feel of the large canvas. That night, and over the next two days I reworked the canvas. The results are shown to the right.
To see the final version of the painting, Click the link to the right.
Preliminary Study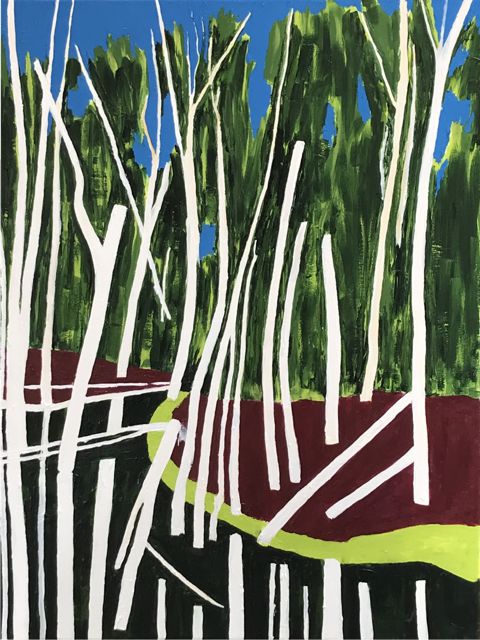 Considerable work was required to finish the painting.
The final version of the painting diverges considerably from the actual scene, and from the small study.
Note the smoothed edges of the intensified white areas of the images to the right – also the application of yellow to the triangular area on the upper right corner of finished painting.
Compare the refinement of the shape of blue form adjacent to the vertical thick white line between these two images.
initial final