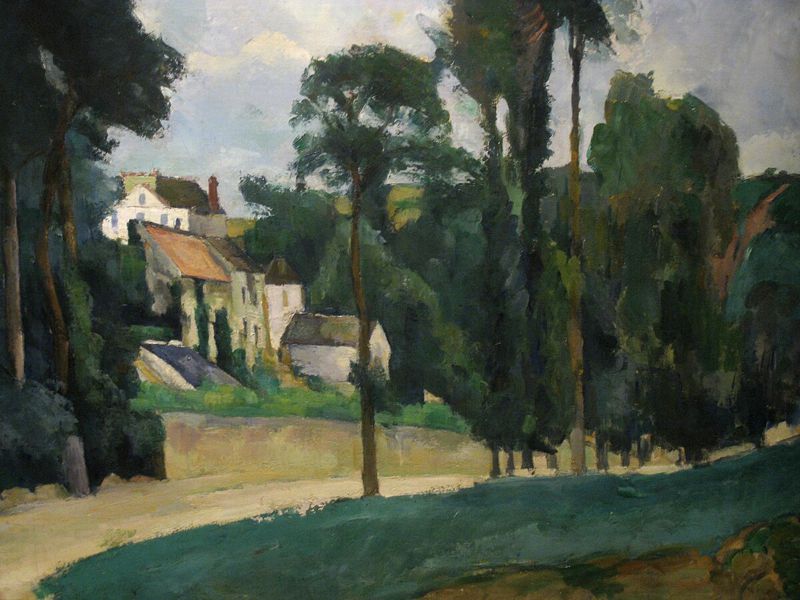 Cézanne's version
Erle Loran - art professor at U. C. Berkeley.
The book, Cézanne's Composition: Analyses of His Form with Diagrams and Photographs of his Motifs, is based upon the research Loran conducted during the three years he lived in Cézanne's studio in Aix en Provence, where he photographed subjects of Cézanne's paintings and analyzed how Cézanne altered the paintings to produce an acceptable composition.
I've read successive editions of Cézanne's Composition obtained over the years, many of which I've given to friends.
Mr. Loran provided a connection to Abstract Expressionism, and to the Bay Area art and cultural scene that I experienced in the 1960's. (See Landauer, The San Francisco School of Abstract Expressionism.)
In October, 2018, I visited Cézanne's studio and the quarry Bibémus, where he also painted.
I observed the subjects of various paintings from the locations where he painted them. This helped me see Cézanne's reorganization of the optical reality of the motifs more clearly than I had been able to by looking at prints and photographs.
Cézanne played a major role in the transition from representational art to non-objective art.
Gottardo Piazzoni - Swiss-born Bay Area painter.
"Lene," Arlene Washburn - my fourth grade teacher, a family friend, my lifelong friend and mentor.
Lene, whom I had to call Miss Washburn when I was in her class, taught me how to draw, how to paint, and how to learn. She set examples for how to live, and how to die.
Lene arranged for me to show my work to Madam Chouinard who encouraged me to apply to The Chouinard Art Institute MFA program. I was not able to do so, but her endorsement reinforced my belief in my talent.
Harold Webb - Chemistry teacher at El Monte High School, sponsored the Mineralogy Club. He also sponsored the school's chemistry team. This involved several months of extra-curricular study in preparation for the annual American Chemical Society High School Chemistry Test. I did well on the test.
That experience led me to see science and mathematics as means of understanding the universe based on verifiable evidence and rigorous study. This provided a basis for learning how to think critically, and an enduring compulsion to understand . . . everything.
On Mineralogy Club field trips, in addition to explaining geology and showing us how to collect rocks, Mr. Webb encouraged me to sketch and to paint landscapes, and he spoke well of my efforts.
Paul Wheatley - Geography professor at Berkeley, team-taught Geography 100A and 100B with Mr. Glacken. Wheatley wrote two remarkable books:
Pivot of the Four Quarters is a history of the development of Chinese cities, and, incidentally, a history of the invention of cities throughout the world. Places Where Men Go to Pray is a history of the development, form, and function of medieval Muslim cities.