Sensory Experience of Perception
PLACES
''I remember only ideas and sensations.'' (Ulysses, the Corrected Text, page 7.)
I'm sure I read this passage the two or three times I set out to read Ulysses. I didn't notice it, however, until I heard it read aloud recently. I was struck by how it treats ideas and sensations as aspects of knowing, and how knowing is entangled with and informed by the sensory experience of perception.
Perceptions are the results of sensation. Ideas are the products of cognition
Experiencing place is a complex multilayered experience. My earliest memories of place help me recall what I was feeling at the time, sounds — what people were saying, music, birds, traffic, animals, also smells, taste, weather.
Visual memories are my primary source of access to experiences of place. These are interwoven with knowledge acquired through study and travel.
My artistic and intellectual work is refracted through the amalgam of fragments from the various categories of knowledge of place.
Zūrich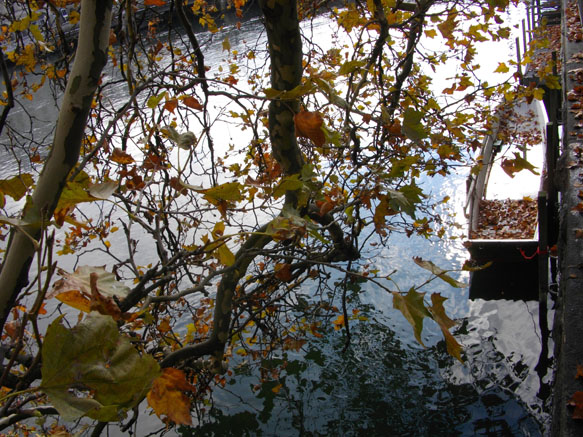 Snapshot of the Limmat where it flows into the Zurichsee
Paris is important and has its own place in the website. Please click the link below.
Montana
For the last forty years I have spent part of every summer in Montana.
Aix en Provence
This is where Cezanne lived and worked. It is easy to imagine the painter as trying to capture and convey the compelling, almost painful, beauty of his surroundings. When I was there I was struck by how hard it must have been for Cezanne to ignore the beauty, and choose, instead, to rearrange the compositional elements of what he was looking at so as to achieve visually satisfying paintings.
The Mountains of California
Angeles National Forest-Highway 39, Angeles Crest Highway, Highway 2, Cajon Pass, Mount Wilson Trail, Mount Baden Powell, Old Baldy, Mount San Antonio, Pine Beatles.
The Sierra Nevada - Owens Valley, Yosemite, Mount Whitney.
My First Summer in the Sierra, John Muir; Up and Down California: The Journal of William H. Brewer, The Thousand Mile Summer, Yosemite Trails, J. Smeaton Chase.
Coastal California
Two Years Before the Mast, Richard Henry Dana; California Coast Trails, J. Smeaton Chase,
-- Belmont Shore in 1946 and 1947, .
New Mexico -- Toddler on the ranch, summers in Santa Fe, Uncle Howell's dude ranch, 'The Lazy Ray', near Jemez Springs, The Daybooks of Edward Weston, Taos Moderns, memories of what I have seen, read, and experienced.